Levinson news clips: TV reviews
MEVIOtoday
About the Show
Produced by:
Paul Levinson
audio clips by a national/international media commentator - reviews and analyses - available to radio producers, podcasters, and print journalists
From the Producer
Brief audio clips from New York City - usually not more than five-ten minutes - reviewing current, excellent TV shows. The occasional movie also reviewed. Radio producers and podcasters - feel free to use as little or as much of the clip as you like. Reporters and bloggers - feel free to quote as little or as much of the clip as you like. In all cases, please credit me as follows: Paul Levinson, Professor of Communication and Media Studies, Fordham University. Please also e-mail me at Levinson.paul@gmail.com if you use a clip or quote me. (Podcasters and bloggers: please also mention the Levinson News Clips podcast as the source of the clip.)

Weekly podcast reviews of  Bones, Fringe, Game of Thrones, House,  NCIS, and Treme featured for Spring 2011!
See InfiniteRegress.tv for my blog post reviews of these shows, as well as reviews of each episode of Criminal Minds, Dexter,  Mad Men, The Borgias, The Closer, The Killing, True Blood, and more .

I have been interviewed more than 500 times on radio and television in the United States, Canada, England, Italy and Australia including ABC's "NightLine", "CBS Evening News with Dan Rather", PBS' "The NewsHour with Jim Lehrer", "The O'Reilly Factor", "Scarborough Country", "Jesse Ventura's America", "The Big Story with John Gibson", ABC's "World News Now", "Daybreak", "Your World with Neil Cavuto", PBS, CNN, Fox News, MSNBC, CNBC, the History Channel, "Today in New York", "Good Day New York", WNBC-TV, WCBS-TV, WB-11, "Inside Edition", AP Radio, CBS Radio Network News, Bloomberg Radio, CNN Radio, NPR's "Talk of the Nation", "Morning Edition", "The Diane Rehm Show", "On the Media", "The Connection","On Point", "Public Interest (The Kojo Nnamdi Show)", "Odyssey", "Tech Nation", "New York and Company", and many local NPR affiliates and local radio and tv, and the BBC's "NewsNight" and "Thinking Allowed" and I have been quoted frequently in the New York Times, USA Today, Washington Post, Los Angeles Times, Wall Street Journal, Smithsonian Magazine, U.S. News and World Report, Forbes, Christian Science Monitor, New York Daily News, New York Post, Newsday, Boston Globe, San Francisco Chronicle, Hollywood Reporter, Daily Variety, Billboard, Toronto Star, Montreal Gazette, Atlanta Journal-Constitution, Houston Chronicle, Philadelphia Inquirer, Miami Herald, Newark Star-Ledger, Orlando Sentinel, Cleveland Plain-Dealer, Detroit News, Dallas Morning News, the Cape Cod Times, Associated Press, Reuters, UPI, Scripps-Howard, and dozens of other major newspapers, magazines, and news services.
I am also author of more than a dozen books - novels and books about the media .
More details about me are on my web page

See also the Wikipedia entry on me: http://en.wikipedia.org/wiki/Paul_Levinson

Other information and examples of my media work:
Light On Light Through podcast
http://www.reverbnation.com/paullevinson
SPECIAL OFFERS TO Levinson News Clips listeners!

25% Off on Angie's List!
Angie's List Promotional Code
10% or $30 Off on Avis Cars!
Avis Rent a Car Coupon Code
10% or $30 Off Budget Cars!
Budget Car Rental special code
free MP3s on eMusic!
eMusic Trial Code  
PS - The clips in Levinson News Clips  are short and to-the-point. If you'd like to sample my longer discussions and analyses of television, politics, movies, new tech, science fiction, food, hybrid cars, and who knows what else, try my Light On Light Through podcast - monthly commentaries, usually 20-25 minutes long.
I'm proud to be on the May 8 page of this calendar, with the following quote: "What begins as a seemingly innocent campaign against indecency . . . always segues in short order into political censorship."  Read my 2005 Keynote Address at Fordham University, The Flouting of the First Amendment .
The Plot to Save Socrates
"challenging fun" - Entertainment Weekly
follow PaulLev at http://twitter.com
****published September 2009!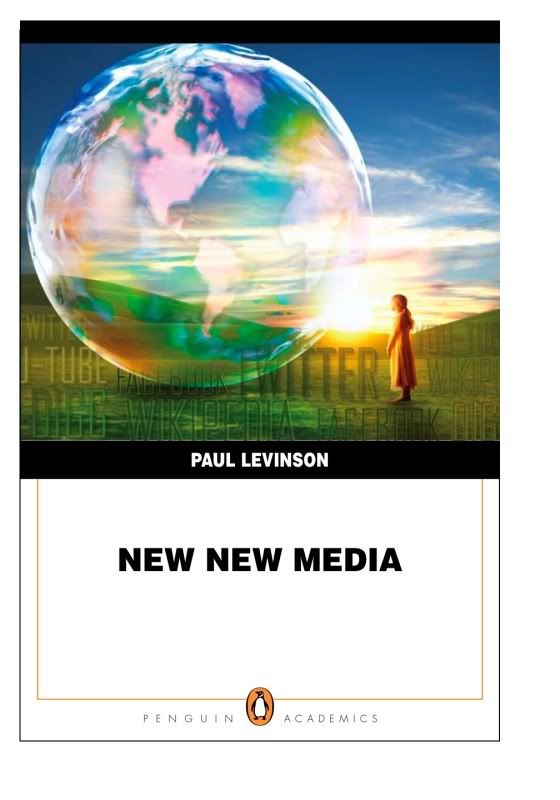 Joan Walsh, Editor-in-Chief of Salon.com, says
Paul Levinson takes you on a walking tour – actually, it's more like a running tour – of the media innovations that are transforming our world. He's not just a scholar, he's an explorer, immersing himself in MySpace, Facebook, Twitter and multiple blogging platforms to help us make sense of the galloping changes in media. Have we entered a glorious new era of media democracy, or are these innovations leveling standards of fairness and authority? Levinson remains an optimist without being blind to the dark side of change. Whether you want to learn to blog, podcast or Twitter yourself, or just keep track of the way such tools are remaking the world around you, the "New New Media" is an indispensable guide.
Follow this blog
Follow This Show
Get Notified
Become a fan! Get email notifications as new episodes of this show air on Mevio.